Sound Explorers
Sound Explorers brought music and sound to young people across additional support needs settings in Scotland across 2021. This built on our  All Join In programme and supported a new group of Associate Musicians to develop their skills and work in 10 schools across 5 new local authorities! This work is thanks to Creative Scotland's Youth Arts Targeted Fund.
This new Associate Musician team come from all musical walks of life, and have been developing their skills with Drake Music Scotland training, mentorship and peer learning. Find out more about the team.
We worked in schools across:
Dundee
Falkirk
Glasgow
Highland
South Lanarkshire
In May and June our musicians led over 40 online workshops with young people in additional support need settings. Young people explored sound in these workshops and started to discover Figurenotes and a range of music technology.
"The children loved the sessions, looked forward to them and were really engaged and interested. My class have quite a limited curriculum that they can access and he was absolutely brilliant with them – soothing, fabulous and communication and really engaging."

Teacher, Sound Explorers School
From September-December our musicians delivered over 100 workshops face to face with young people to develop their musical voices and to actively participate in creating and performing music.
"Both pupils and staff got so much out of the project. Everyone looked forward to the Thursday sessions and the whole school community was very moved and very proud of the final piece of work.  All are looking forward to having Drake Music in class again soon!"

Teacher, Sound Explorers School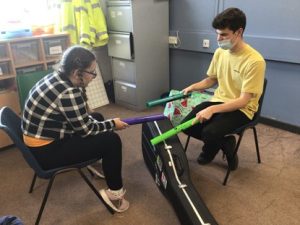 Our team also created resources to share their skills with schools and other musicians. Discover their resources here.