This month we're celebrating ten years since Drake Music Scotland introduced the UK to Figurenotes – the revolutionary inclusive music system that has helped over 10,000 people play a musical instrument for the first time.
On 26 November 2010 at Glasgow City Halls, we gathered together hundreds of music organisations, teachers, music education policy makers and academics to showcase Figurenotes and unveil its first software version to the world.
Image above: Artistic Director Pete Sparkes introducing Figurenotes to delegates at our November 2010 conference.
Creating a digital version
Figurenotes was originally developed by Kaarlo Uusitalo and Markku Kaikkonen at Resonaari Special Music School in Helsinki over 20 years ago. Stickers of different coloured shapes each representing a different musical note are placed on piano keys or the guitar fretboard. Learners then simply play by matching the coloured shapes they see in their sheet music. The intuitive and logical system is great for beginners of all abilities and has proved especially effective for adults with learning difficulties.
Find out more about how to play using Figurenotes
When we first came across Figurenotes in 2008, we immediately saw the potential for a software version which would enable learners and teachers all over the world to instantly create, print and share resources. With agreement from Resonaari and support from Creative Scotland's Inspire Fund, we created Figurenotes software 1.0 and have never looked back.
How far we've come
With its own dedicated team and website, Figurenotes has developed into one of the world's foremost inclusive music tools with a network of teachers and learners in over 20 countries from USA and Australia to Brazil and the Falkland Islands.
Over the past ten years, it has helped over 10,000 children and adults of all abilities to learn to play music and our training programme has equipped over 1000 music teachers with the knowledge and skills to help make their classroom fully inclusive.
A measure of its success
Our Figurenotes software has won several accolades including Best Special Educational Needs Resource in the Music Teacher UK Awards for Excellence. But even more a testimony to its success is its endorsement from the many major partner organisations who have integrated the system in their education work including BBC Ten Pieces, Sistema Scotland's Big Noise, Snape Malting's Friday Afternoons and Scottish Chamber Orchestra. Most recently, we have collaborated with Music in Secondary Schools Trust to create Figurenotes versions of their highly acclaimed instrumental tutor book series.
Image:Young learners with Sistema Scotland's Big Noise Raploch project demonstrating their use of Figurenotes at our 2010 conference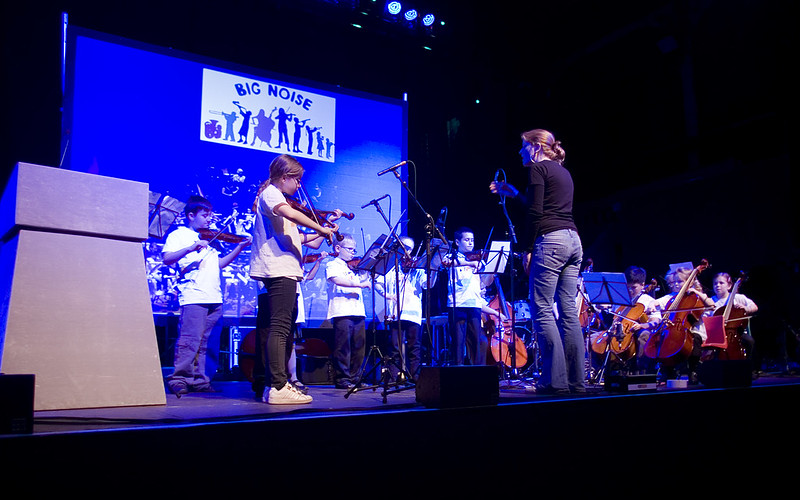 "Figurenotes is not just a good notation system it is life-changing. Special Needs pupils are now accessing the community in a way which was undreamt of a few years ago.  Annona Thornton, Music Teacher
We continue to explore the benefits of Figurenotes to new groups. For example, with the support of Scottish Government Pupil Equity Funding we have been working to help close the attainment gap for pupils with additional support needs at Castlebrae High School in Craigmillar. Headteacher Norma Prentice told us "The project has involved working with the school's most vulnerable pupils…there is clear evidence that it has helped remove barriers in learning for the young people". Just before lockdown, Deputy First Minister John Swinney visited Castlebrae to take part in a Figurenotes session with pupils.

And the next 10 years…
Although, due to the pandemic, we've sadly had to cancel plans for a 10th birthday conference this year, we are marking the anniversary with an upgrade to the Figurenotes software made possible with support from SCVO's Digital For Good. We're also planning the next exciting stage of software development which will further expand its accessibility and future proof it for at least the next ten years.
Want to know more?
If you've always wanted to read music and play an instrument but don't know where to start, head over to Figurenotes now. Everyone can be a musician!