Introducing: Composer Ewan Mackay
We are proud to announce a new creative partnership between Drake Music Scotland, the Disabled Artist Network and upcoming Scottish composer Ewan MacKay.
Ewan MacKay begins a new creative development relationship with us to explore the musical potential of working with Digital Instruments, as well as helping him form new working relationships with professional artists across Britain.
Ewan MacKay first came to our attention in 2018, while still a student in the University of the Highlands and Islands, studying with Mark Sheridan. Then in 2019 we featured his music in our award-winning concert Diversions. We then had the pleasure of commissioning a work for our recent concert Echoes which saw him working closely with our friends Chris Jacquin, Karen Sutherland, and clarinettist Yann Ghiro of Hebrides Ensemble.
We felt after those short-term relationships now was an ideal time to help Ewan MacKay get support to explore and give him professional support to broaden his musical horizons. To do this, he will be working closely with Digital Harpist extraordinaire Rhona Smith, to develop his skills with digital technologies and their musical potential as well as having quality time with such a talented artist.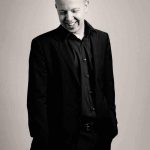 To accompany this, he will be receiving mentoring from the Welsh composer Huw Watkins, who we felt would be an ideal fit for Ewan as his recent success in the BBC Proms accompanied by his particularly lyrical music would place him perfectly to not only guide Ewan as a developing composer, but to be an example he could learn from.
Huw told us "I am thrilled to be mentoring Ewan Mackay this year as part of this innovative new scheme from Drake Music Scotland"
Ewan will also receive direct support from Drake Music Scotland and the Disabled Artist Network who will help him learn other elements of professional life as a composer and help promote his work in various ways.
Ewan described his feelings about this opportunity:
"I am delighted to be working with Drake Music Scotland with the support of the PRS Talent Development Fund and the guidance of Huw Watkins and Ali Gillies. Having worked with Drake Music Scotland in the past, I have been moved by their ability to bring new and innovative projects in disabled music to new audiences, while simultaneously championing the work of emerging composers such as myself. With their support, I'm excited to push myself as a composer in various new creative directions, while working on new music with some phenomenal musicians in the process."
We are thankful for the support from PRS Foundation's Talent Development Partnership which has allowed us to develop this bespoke support for Ewan MacKay. We are also extremely excited to see the musical results! There will be some more exciting news to come – so watch this space for more updates!