In his second blog for us, Drake Music Scotland Associate Composer Ben Lunn gives us a run down on latest news and developments from the Disabled Artist Network including an exciting partnership with Kazakh contemporary music ensemble Eegeru.
The past few months have been a curious mix of things, multiple events, slowly returning to a 'normality' as the pandemic seems to drift away. There have been many lessons learnt and quite a few things we can take pride in.
In July, our Getting to Know You Session returned with two guests, Mahan Esfahani the internationally renowned harpsichordist – who appeared at this year's BBC Proms! – and great champion of contemporary music for his instrument, and clarinettist Heather Roche, also a huge supporter of new composition, collaborating with composers to push the boundaries of what her instrument can do. Both gave an insight into their way of working, how they find artists to work with and offering advice on how to approach soloists, how to get projects running, and other information the attendees were curious to learn about.
At the end of the month, we were able to celebrate our biggest success to date – funding from the British Council and PRS for Music Foundation has meant our member Clare Johnston is now working on a development project with the Kazakh contemporary music ensemble Eegeru (main image above). The pairing focuses upon the idea of 'knowledge exchange' initially.
Clare met with Raushan Jumaniyazova and members of the ensemble on the 23rd September giving a wonderful presentation of her skills and expertise, which Raushan has been raving to me about since the session. At the most recent session on 12th October she talked further about why we use technologies to support disabled musicians and in turn Eegeru members Sanzhar and Satkozy presented their ancient folk instruments the nar kobyz, dombra, sybysgy and shan kobyz (image below).
It does seem a really deep and mutual relationship is forming – so hopefully we can look forward to more extravagant ideas, like getting Clare to Kazakhstan or bringing the wonderful ensemble to Scotland. Whatever happens, both groups are having a really wonderful impact on each other, and I hope it can continue for a very long time to come!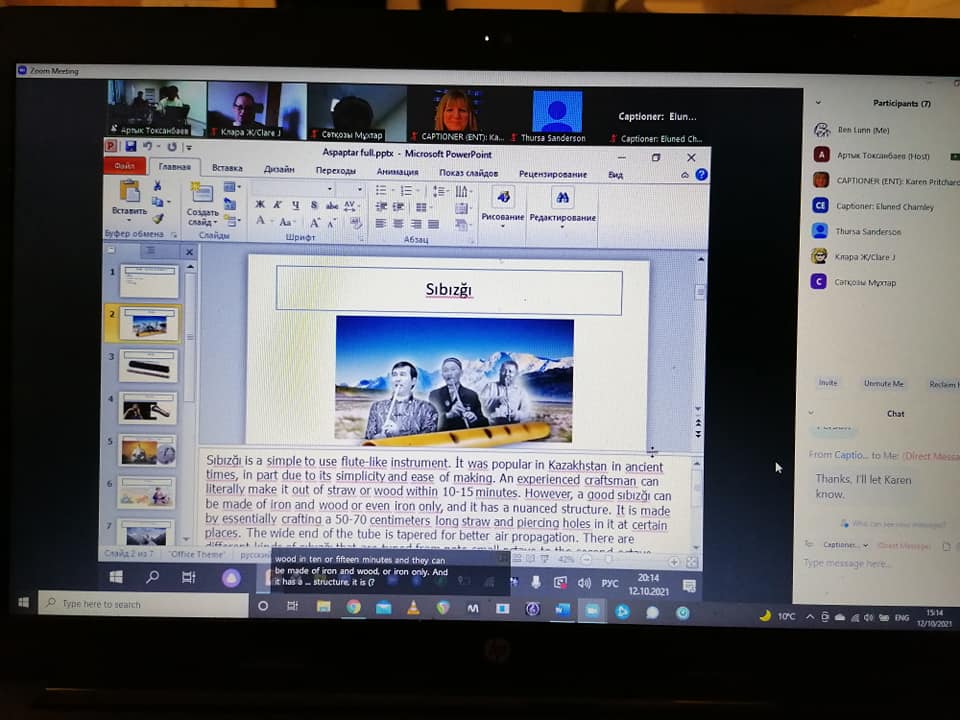 Last but not least, on the 28th September, the Network made massive leaps and bounds with our first blended meeting. For the first time since we formed, we had a meeting which had both physical and online elements! We had friends joining us from Inverness, Penarth, Glasgow, Dundee as well as physically joining us in the Drake Music Scotland rehearsal space in Craigmillar. The session, for me was like a breath of fresh air, as it was nice and relaxed, we had a giggle and shared updates on how things are going, hearing numerous successes and an overall eagerness to do a lot more as we return to more physical in-person work. We also shared our concerns, and issues we want to address. Listening to what our friends had to say, has given me a lot of ideas on what to focus on moving forward.
Overall, the energy and busy-ness is building. We continue to grow, and are very eager to hear more from disabled artists in many different fields. We'll also have more events coming in future. Watch this space for a group meeting in November and keep an eye on our social media for numerous other updates we look forward to sharing with you all.
Ben Lunn
Find out more about the Disabled Artist Network
Our Disabled Artist Network is kindly supported by PRS Foundation Talent Development Partnership and the R S Macdonald Charitable Trust


Clare Johnston's partnership project with Eegeru is kindly supported by PRS Foundation British Council International Bursary Fund