Summary
We think helping our musicians have good mental health is important. We have started working with the national programme called See Me, to make sure we are doing the right things to help people maintain good mental health.
See Me
At Drake Music Scotland we're taking action to end mental health stigma and create a better working environment for our staff and freelance team of musicians by signing up to the See Me in Work Programme https://www.seemescotland.org/workplace/see-me-in-work/
Research from See Me, the national programme to end mental health stigma and discrimination tells us one in four Scots (24%) don't feel comfortable talking about mental health at work and one in five (20%) have said they've needed time off for their mental health but didn't take it.
We don't want our staff to feel like this, so we've signed up to the See Me in Work programme, a four step improvement plan to help workplaces to make improvements to their culture, practice and policies, and tackle stigma and discrimination.
"I have had mental health struggles heightened by lockdown and Drake has been a lifeline," says Karen, pictured.
We know from feedback from Karen and others that the disabled musicians we support experience positive wellbeing from being involved. We want our staff and team of Associate Musicians leading projects and supporting participants to feel equally supported in their work.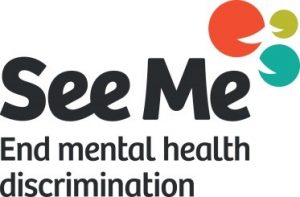 Thursa Sanderson, Chief Executive, says: "We have seen throughout the Covid pandemic and its aftermath the additional stress and pressure on people it has caused, and want to become a See Me in Work partner so we can nurture the wellness of our team."
Wendy Halliday, See Me director, said: "While many organisations understand the impact of mental health in the workplace, it can be challenging to create a mentally healthy working environment.
"However there is a strong business case for getting it right on mental health in work, and it's fantastic to see employers like Drake Music Scotland sign up to become leaders in creating change."